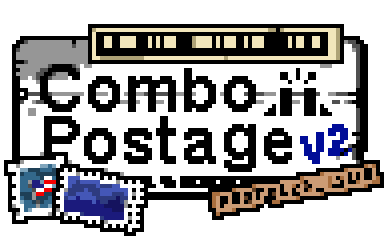 Combo Postage
It's been over two years since Combo Postage launched in 2019...
It's taken a lot of work, and far longer than anticipated, but the Winter Update's content is done, and I am preparing to launch it soon!
What's the Winter Update? Well, I don't want to spoil it for everyone, so I'll just say that I think it will make Combo Postage players, new and old, very happy...
Please stay tuned for a proper announcement and the release date of the Winter Update. If all goes to plan, the Winter Update version of Combo Postage will launch on Mac, Linux, and- of course- Windows simultaneously. Oh, and a 33% off sale, too!
If you already have Combo Postage on itch, you get the update for free! The Winter Update 'V2' version of Combo Postage will be the new 'base version' of the game. (And, yes! This includes anyone who got Combo Postage as part of a bundle, too.)

The soundtrack will be available for purchase separately right here on itch, and on 'Bandcamp' too. It will include most of the music in Combo Postage, plus a ton of bonus materials.
Thank you to everyone who has played Combo Postage so far, and to all who look forward to trying it out for the first time. I hope to give more info VERY soon.
Best,
Kirk