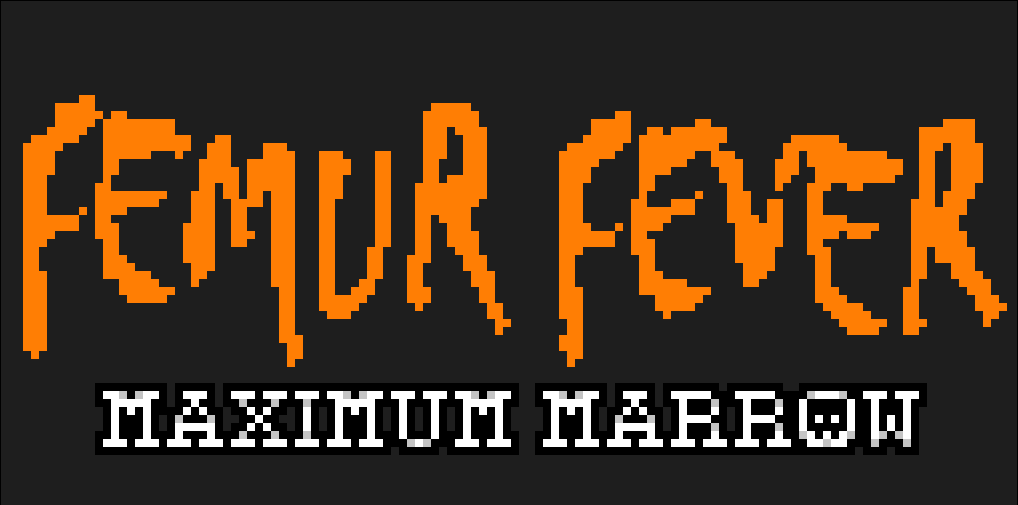 Femur Fever: Maximum Marrow
~ 💀 HOW TO PLAY 💀~
Femur Fever is a competitive local-multiplayer game about throwing your own bones at your opponent!
Win rounds by being the last skeleton standing.
The Title Screen:
On the title screen, you can use the mouse to adjust the number of round-wins to achieve victory, quickly rebind control keys, access the settings menu, and start the game. (The game can also be started if both players hold their attack key.)
Settings:
Adjust game volume, toggle screenshake, rebind controls, and toggle game modifiers.
Gameplay:
Rounds start with each player on the opposite side of the screen. Player bones are displayed on the sides of the screen, and disappear when tossed or when damage is taken. Rotate your skull left and right with your rotation keys, and toss a bone with your attack key. If a bone hits an opponent, they lose four of their own bones! When one or both players are out of bones, they are KO'd! Whoever is left standing earns a point, unless the round ended in a tie. In-between rounds, the score is displayed- the next round starts when both players have pressed the attack key to ready up.

That should be enough to get started! Best of luck, and have fun.

~ 📚GAME HISTORY 📚~
Femur Fever was originally released as a downloadable Windows game for Halloween 2016. This web version was created to celebrate it's third anniversary, and to make it easier for anyone to start playing with a friend! 'Maximum Marrow' has extra polish, some quality of life tweaks, and a few bug fixes.

CHANGELOG: ☠📝

October 30th, 2019 - Added new 'Chill Bones' and 'Finale Boost' modifiers in the settings menu. Fixed logo not shuffling colors for each launch, and 'rounds to win' number displaying incorrectly when returning to title.
October 31st, 2019 - Fixed rare softlock.
May 10th, 2022 - Tweak to audio in Settings menu.