Battery Panic!
Created in 48 hours for LudumDare 46.

⌨ CONTROLS ⌨
Left and Right Arrow Keys - Move battery side to side
Up Arrow Key - Quick drop battery
Down Arrow Key - Slow drop battery
Z - Counterclockwise Rotate
X - Clockwise Rotate
Space - Bank power and clear the 'battery zone'

🔋 HOW TO PLAY 🔋
Keep your in-game phone from reaching '0%' as long as possible!
Create a chain of batteries from the green ⚡ at the bottom of the converter to stock up energy. (Batteries can be chained by connecting the '-' end of a battery to the '+' end of the chain.)
When you're ready, press Space (or reach the 'Safety' line) to charge the phone with the power you've stocked up and 'level up.' This will also clear the 'battery zone' for the next level.
Be warned! Leveling up increases game speed, too. How far can you get?

💡HINTS💡
The negative end of one battery and the positive end of the chain can connect at any side.
Empty batteries (which you'll sometimes be forced to place somewhere) turn into 'garbage' after landing.
Normal batteries fizzle if they land without connecting to the battery chain.
Fizzled batteries turn into 'garbage' when the next battery is placed, unless the next battery connects the fizzled battery. (This grants you a 'chain bonus.')
Leveling up without storing any power will cost you.
There are two gameplay music tracks. (Covers of two of Chopin's Etudes, in fact!) The music is chosen randomly at the start of each playthrough.

🐛KNOWN ISSUES🐛
The 'level' counter should start at 0, not 1- because of this, the level appears to stay the same on the first 'level up.'

Gameplay Gif: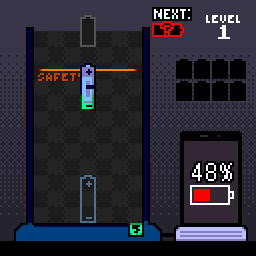 PS: I didn't have a lot of time to balance the game or add a scoring system. so the game flow isn't quite right. I hope you enjoy it, anyway! 😅
Download
Click download now to get access to the following files:
BatteryPanicSource.capx
1 MB